6 Type of DIY Hydroponic Systems and their Growing Media
This is most important factor while choose Hydroponic growing systems. which can turn int your profit or growth of success. there are six types of Hydroponic systems.most of the expert are doing their own technique depend on their experience but each technique has their own benefits and disadvantages.
As you all are know soil factor is important role in normal agriculture system in this case we obviously ignore the soil and in place of soil you need some materials to hold the plants to transmit the nutrients, moisture and oxygen to the plants roots. and here growing medium fulfill the requirement. There are so many growing media using by professional farmer in hydroponics system. lets have quick small review to understand the hydroponic system and their growing media
6 Types of Hydroponic Systems
As i said this is the first step to choose your best hydroponic growing system in garden There are other different types of Hydroponic system but not sure if they can be implemented or not . these systems are worked like Silent and unsilent. Unsilent system work nutrient solutions has been provided usually by a pump. and silent system wick system or other growing medium helps to flow the nutrients to plants roots.
These Six basic types of DIY Hydroponic systems Consist:
Wick System
Ebb and Flow (Flood and Drain)
Deep Water Culture
Nutrient Film Technique (NFT)
Aeroponics
Drip System
Wick farming hydroponics system
This system is the most simple type of Hydroponic system also medium based system where perlite or rockwool is used and by pumping the nutrient solution has been provided from the reservoir up to the plants into the growing media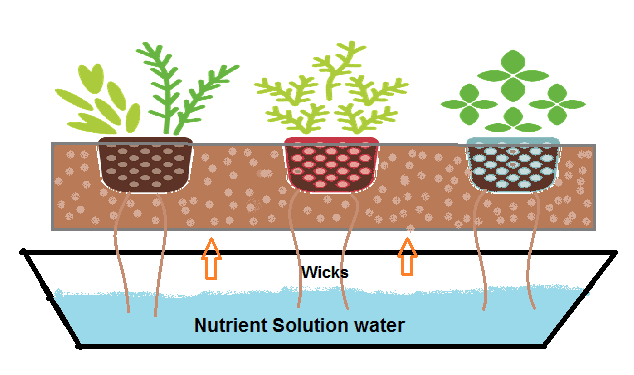 #beforeimage2
Advantages

Disadvantages
☺ High level of control on feeding and watering schedule
☹ Limited Oxygen
☺ Doesn't required Nutrient Pump
☹ No Nutrient cultivation
☺ Low Maintenance
☹ Slower Growth Rate

☺

Relatively cheap
☹ Prone to algae growth
Deep Water Culture
DWC is an active recovery Hydroponic growing system. and simple and best effective way to grow hydroponics plants.It doesn't requires nutrient pumps but air pump is used to oxygenate the water in the nutrient solution.It works by hanging a net pot where roots are submerged with the nutrient and mineral solutions.
#beforeimage4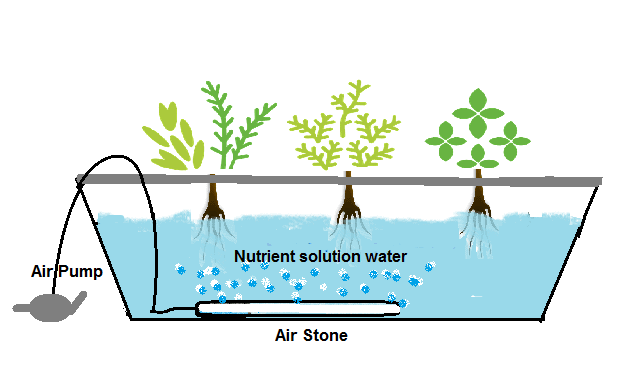 | | |
| --- | --- |
| Advantages | Disadvantages |
| ☺ Cheapest of all | ☹ Doesn't work well for large plants |
| ☺ Doesn't required Nutrient Pump | ☹ Slower Growth Rate |
| ☺ Low Maintainance | ☹ Risk of root rot if not cleaned regularly |
| ☺ Recirculating, so less wasted inputs | |
NFT Nutrient Film Technique
NFT works very well and easily manageable because it design it in such way where water can be easily and continuously flow away from Pot or tray to the main nutrients mineral water solution that mean no need to setup timer. in this way solutions then flow away through the roots system of the plants till its reaches back to the main tank.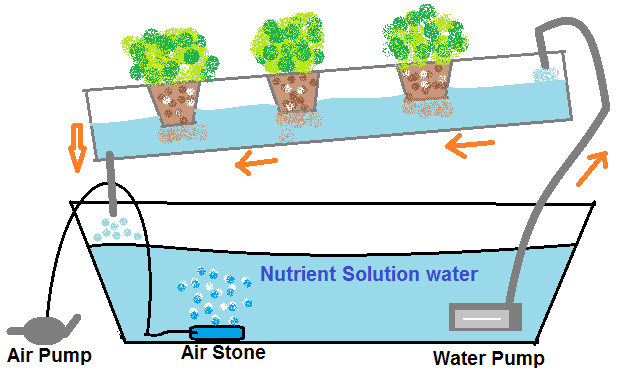 | | |
| --- | --- |
| Advantages | Disadvantages |
| ☺ Recirculate Excess nutrient solution | ☹ Pump failure may cause damage your crop |
| ☺ Efficient space | ☹ Slower Growth Rate |
| ☺ Good Oxygen Flow | ☹ Roots can become overgrown and block the channels |
| ☺ Recirculating, so less wasted inputs | |
Ebb & Flow System
Ebb and Flow method exact opposite of NFT system where this works by using a timer to set -up the pump to pull the nutrients mineral water from the main tank to the grow tray or pot intermittently. once the plants root fill up with the nutrient water surround by them it again drains back to the main water tank system.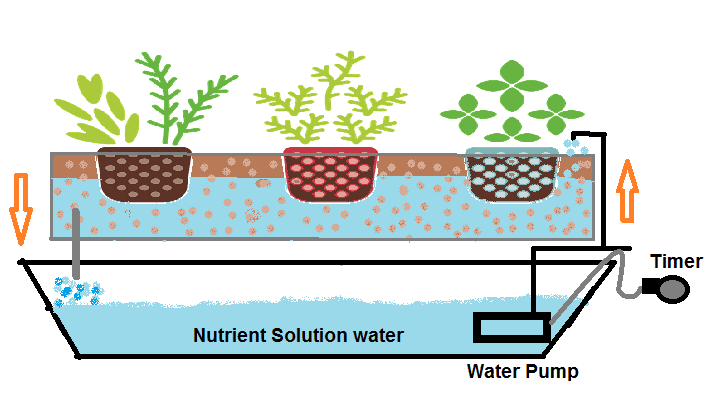 | | |
| --- | --- |
| Advantages | Disadvantages |
| ☺ Efficient use of water & Excess nutrient solution | ☹ Prone to Algae Growth |
| ☺ Affordable | ☹ Technical failure can cause quick drying out of Roots |
| ☺ Good Oxygen Flow | ☹ lots of growing medium usage |
Drip hydroponic system
In Drip systems, the plants grow in container or pot and it require timer to control the water flow system to push the tiny amount of nutrient solution onto the base of each plant. we can set up the timer adjustment or dripping pumping system drip faster or slower by equipment for each tube with different transmitter.this system needs growing media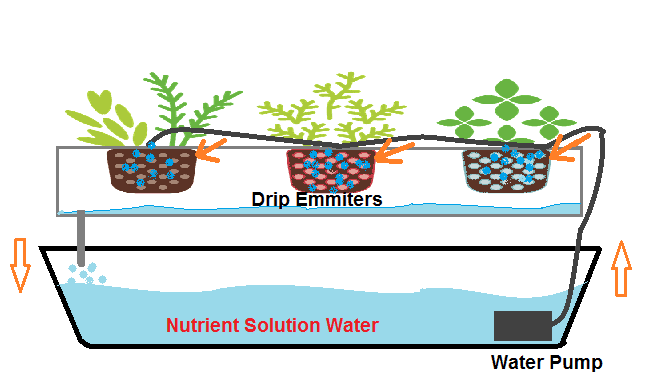 | | |
| --- | --- |
| Advantages | Disadvantages |
| ☺ Sufficient Oxygen Flow | ☹ Prone to blocking |
| ☺ Relatively cheap | ☹ Prone to algae growth |
| ☺ High level of control on feeding and watering schedule | ☹ High amount of waste |
| | ☹ Requires regular cleaning |
Aeroponics farming hydroponics system
Probably this is advanced form of hydroponics system and more expensive than other type of hydroponics system.In this type of system,it doesn't required growing media for the plants because plants are hung in the air, and to provide the nutrients mineral water solution timer will take care of it but again this water flow system is require spray technique so that spray water solution onto the root systems continuously. and because the roots are continuously exposed to the air they need sufficient moisture's.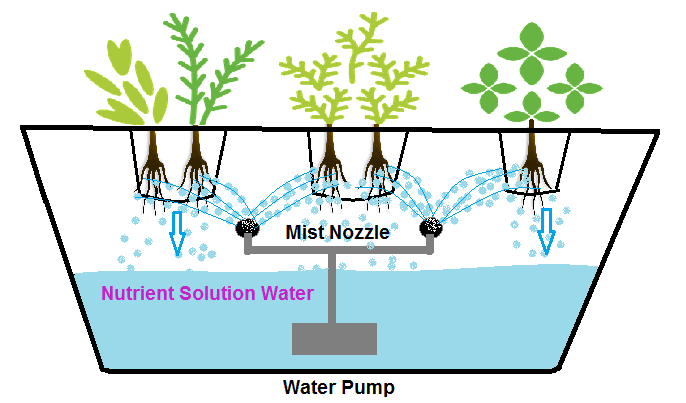 | | |
| --- | --- |
| Advantages | Disadvantages |
| ☺ Sufficient Oxygen Flow | ☹ Not as cheap or easy to set up as other methods |
| ☺ Maximum nutrient absorption | ☹ Prone to blocking |
| ☺ High level of control on feeding and watering schedule | ☹ Not suited for thick organic-based nutrients and additives |
| ☺ Space-efficient | ☹ Time-intensive |
What Makes a best Growing Medium
Before choosing the growing medium you should understand that medium hold the oxygen and moisture very well. if you are thinking about these type of media then there are few limited growing media available. we required the great materials which can hold the plant easily without load where it can provide plant roots with nutrients, oxygen and moisture.
Keep in this mind below few point while selecting growing medium
Reusable.
Not costly.
Organic made and environmentally friendly.
pH neutral
Let's have discussed about most popular media used in farming Hydroponics . Common Types of Growing Media Used
Perlite
This material is one of the common medium choices in farming hydroponics system as Perlite has been mostly used to add aeration to the soil for so long. some time you can see consequently, small white particles pop out like popcorn.
Pros: ✓ Lightweight ✓ High oxygen retention ✓ Reusable
Cons: ✘ Too lightweight for some Hydroponic systems. ✘ Dust from the particles.
Coconut-coir for Hydroponic Systems
Coconut Coir is is also know as "Cocopeat", and"Ultrapeat" is an natural material created from the coconut shell husks.this is widely used media for Hydroponics.That is because of several advantages listed below.this is commonly used in indoor hydroponic growing systems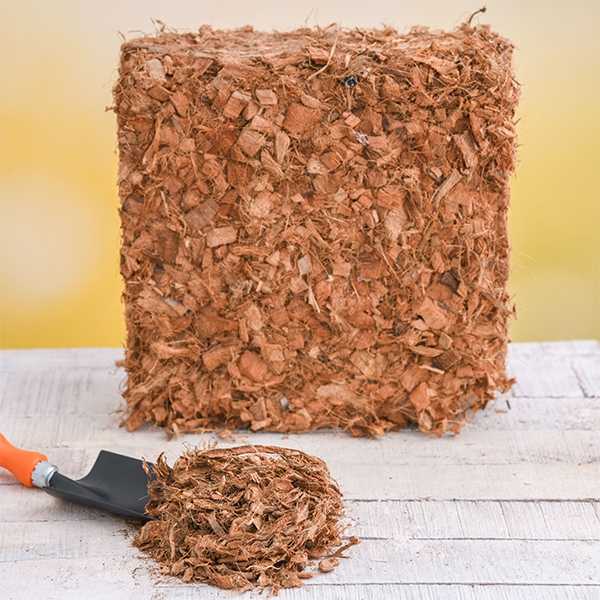 Pros: ✓ Able to hold water and the air well. ✓ natural made. ✓ Renewable & environmentally friendly
Cons: ✘ Doesn't have good drainage, therefore mix with other material.
✘ Uncompressed after several uses.
Rockwool
Rockwool mostly used popularly by hobbyists for commercial farmers. Rockwool material is recirculating types and its created by melting rocks and spinning them into bundles of filament fibers. Rockwool is inert growing medium which can be used as a standalone material and many types of farming hydroponics system.
Pros: ✓ Hold water very well. ✓ Good oxygen retention. ✓ Has a variety of sizes and shapes
Cons: ✘ Not environmentally friendly – Rockwool is almost not able to dispose of. ✘ Dust from the particles. ✘ Not pH neutral.
Expanded Clay Pellets (LECA)
This material is looks like small marble shaped balls which is created by heating the clays until it expands into small round pellets.
Pros: ✓ Great oxygen retention. ✓ Reusable.
Cons: ✘ Poor water retention capacity. ✘ Heavy
Growstones
this is specially created from recycled glass is a versatile medium that can fit almost for hydroponic system.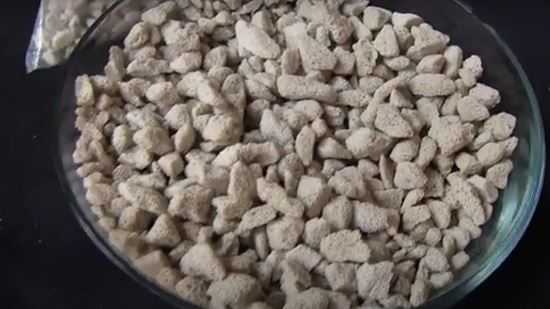 Pros: ✓ Great air to water ratio ✓ Lightweight
Cons: ✘ Potential damage to some plant root types because of its clinging.
✘ Hard to clean.
Vermiculite for hydroponic growing systems
This is materials is same like Perlite, which is made from expanded pebbles under extreme heat. mostly used in combination with perlite because of its poor drainage capacity which is best solution to used this combination with perlite.
Pros: ✓ Great moisture and nutrient retention capacity.
Cons: ✘ Expensive. ✘ Retain too much water.
Starter plugs
Starter plugs are made from organic natural materials like bio adhesive matters or peat moss and others . This is mostly used for seed germination and plant propagation with best result in growing plants.
Pros:✓ Great for seedlings, and propagation phase.✓ Usually organic, sustainable. ✓
Cons: ✘ Quite expensive. ✘ Only used for seedlings or cloning.
I would recommend start with medium and low maintenance growing media so that we will get better understanding about how system is working.
You Can read more about Hydroponic