Vanilla Orchid, Cultivation, Vanilla plant Information with Income
After the successful project of black paper cultivation which we have done as Saving Account farming in our last article which gives a profit of 9 lac per acre, now today in this article we have come up with other alternatives of black paper if you want to earn more than 20 lac per acre but again here your dedication is must as it required manual intervention work as well as labor intensive farm as artificial pollination is carried out to effect fertilization and fruit, no doubt if you give your 100% into this farming which I am going to explain each of the thing in step by step, you will definitely get 10-15 time income as compared to black paper. And the that alternative farming name is vanilla farming or you can say vanilla plantation
#beforeimage2
Vanilla is again tropical climbing vine from the same vine orchid family, now you might think about what is vanilla, vanilla is the same which is used for flavoring purpose for ice-cream, foods and beverages, after saffron vanilla is one of the highest demanding and high price spices in the national and international market where its grows with the support like big bark trees. Here we are going to implement this on Australian teak.
There are different type of vanilla species available. But out these only few of the varieties can be grown as commercial such as vanilla pompona (West Indian vanilla), Vanilla planifolia (Mexican vanilla), and Tahitian vanilla. These are the main important varieties of vanilla but international level mainly focus on planifolia variety which is widely cultivated on large scale for international market. This varieties of vanillin will get more commercial value as compared to others
Since this vanilla required high humidity, shade, and moderate temperature we are cultivating 1st inter-crop which replace black paper here in our 1 acre Australian teak you can grow them in any kind of bark trees like coconut, betel nut etc. Generally vanilla cultivation gives high production under shade net as compared to cultivating as inter-crop vanilla bean farming(vanilla orchid)
Health Benefits of vanilla orchid
Here we will discuss about some of the health benefits of vanilla since it has lots of anti-aging properties which help you for treatment for acne, promotes healthy hair, anxiety and depression, dental health, healthy skin and there other benefits like helps in healing wounds, burns and cuts, weight loss, relieves nausea
Let's discuss about vanilla orchid most production countries -vanilla bean farming
Madagascar
China
Indonesia
Mexico
Turkey
New Guinea
Uganda
Tonga etc…
Out of these the top producer of vanilla country in the world is Madagascar, if we talking about India, contribution of export of vanilla Indian exports approximately 3% of world , here in India, Karnataka is the tops the state for vanilla cultivation after that Kerala and Tamil Nadu, Maharashtra states. Same like black paper Vanilla plants (vanilla orchid)also start the first production after 3 years of planting and it will gives you production up to 12-15 years.
#beforeimage4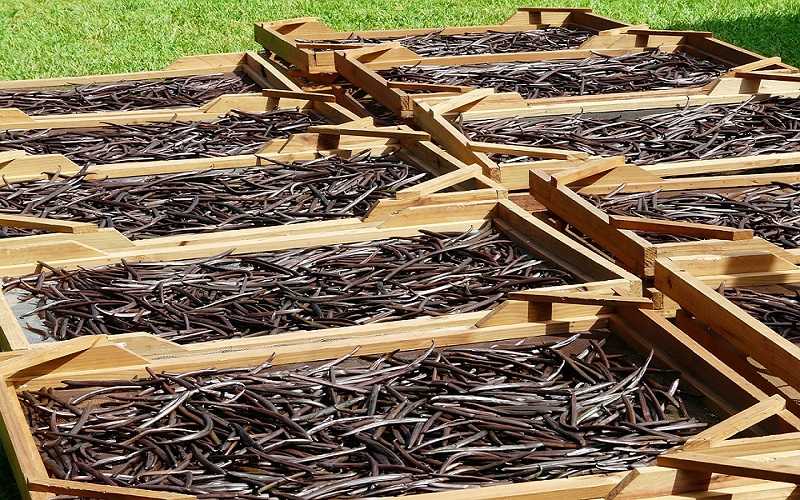 Soil and climate Requirement for vanilla orchid Cultivation
Most important factor is well-drained soils are important for vanilla cultivation, soil quality is any kind of soil can be used but for better result we prefers lands with a slightly slope and 6 to 7.4 soil pH range for Vanilla cultivation. For an example western Ghats areas is best suited for vanilla cultivation.as far as concern soil quality whether it has organic nutrient or not we can do it soil test and according to that you can start increasing soil quality by providing cow dung and other nutrient values also make sure soils are having best drainage if you are planning for Commercial cultivation of the vanilla (vanilla orchid)crop.
Climate required for this crop is warm and humid and annual rain fall in range of 140 to 380 cm and temperature range must be between 23 C to 36 C and 1500 meter above sea level. For the best result its grown well in 50% partial shade, but here in our condition we are implanting it in Australian teak so those requirement we have already fulfilled.
Land Preparation for vanilla orchid Cultivation:
We Will discuss this in pointwise
Before preparing soil make sure to remove weeds
In case of excess water, the arrangement should be done to drain out the water.
If the quality of the soil is not mating the requirement then manually it has been fertile to supplement the organic manure during land preparation.
Since vanilla vines need support to grow it required any kind of living bark trees or pole
Planting and Propagation in vanilla Cultivation:
Before proceeding to propagate vanilla plant we must think about from planting to end finished product with their maintenance, the first thing I would like to think about before planting the vanilla vine must be healthy and fully started to grow other shoots and this should be selected as planting material in vanilla plant cultivation. Preferably it is having 6 to 10 internodes. Vanilla plant or crop is propagated by either shoot cuttings or seeds. If you are doing commercial cultivation then it should have gone with shoot cutting planting materials because it is easy to grow fast and start flowering early as compared to seed propagation.
Planting time for the vanilla when the weather should be moisturized
Make sure that the vines are not directly exposed to the sunlight
Since vanilla plant vines need support to grow it required any kind of living bark trees or pole
Well, organic manure or vermicompost should be filled in the hole with space in between 7 x 7 ft two vanilla plant vine cuttings should be planted around each pole and three cutting vine planned around each tree. Per 1 acre you can make the vine density would be around 2200 to 3000. if you are planning to plan on a pole then you required GI wired in between two poles above 5.5 ft height for hanging the vanilla plant vines.
Pollination and Flowering in vanilla plant orchid Cultivation:
Ideally, the Vanilla plant starts flowering from the month of January & February after 3rd year of planting. Therefore will have to stop giving water during the month of December and pruned some of the tips of the vanilla vines and during this pruning, the stage starts giving water to increase more flowers. As I said it's labor-intensive cultivation because due to the absence of pollinating property in India natural auto-pollination is not possible. Therefore manual pollination should be done by hand with the help of a pointed any kind of sharp stick to start the creating fruit.
The thing to be noted while doing pollination in vanilla cultivation
Morning 6 Am to before 12 PM pollination should be done
Around 1500 to 2200 flowers can be pollinated by skilled workers in a single day
To get high-quality beans with the maximum length it is recommended to pollinate or maintain only 10­50 blossom per vine and these flowering blossom will take over a period of 3-4 weeks.
Maintenance during Vanilla plant Orchid Cultivation:
Maintenance during Vanilla Cultivation we can divided into 4 parts as below which gives you best result
Fertilizers in vanilla plant orchid Cultivation:
For the best result in vine growth, organic manure like cow-dung or vermicomposting or neem cake should be applied also 120 grams of 2 Nitrogen doses in the month of July and Oct. for better growth root system should be developed and spread around so it required to lose the soil around the root base.
Mulching in vanilla plant orchid Cultivation:
This is the best way to protect and maintain the soil from attrition, moisture loss so it required to do mulching with other leaves or almond leaves or any other big leaves should be used mulching
Water requirement in vanilla plant Cultivation:
After planting vanilla vine up to 2 to 3 daily watering is required during dry and summer seasons. And in normal condition provide water four times in a week. You can use Sprinkler irrigation which is ideals for the vanilla plants but make sure water should not flood.
Hanging vine in vanilla plant Orchid Cultivation:
In order to do easy manual pollination, it required to limit the growth of the plant, where the vine growth should be limited to 6 to 7 feet from the ground. also, you can provide support or hang them in between two-pole or tree by making a horizontal bridge of any of the material like a wood pole or GI wired material and later hang the branches of the vine on them so that manual pollination can be done easily and will get horizontal support without touching to the ground.
Diseases and their Pests in vanilla plant orchid Cultivation
Below are the common diseases
Decomposition of the root where causes yellowing of leaves and stems also Roots become brownish moving to decomposed
Stem destroy: where the Symptoms shows it causes brown spots on leaves and stems and changed the color of leaves to yellow
Bean destroy, etc.…I would recommend you to contact your department of agriculture for pests and disease control. According to that solution must be applied.
Below are the pests/insect are found in vanilla orchid cultivation:
Vanilla bug, Beetle, Vanilla vine, Caterpillar, White grubs again I would recommend you to contact your department of agriculture for pests and disease control. according to that solution must be applied
Harvest Process in Vanilla plant Cultivation:
We saw how we can grow vanilla plant and their maintenance but here in this stage of harvest and process, it has to go through the four main stages or process normally vanilla beans growing quickly and till it got mature in 2-3 months after pollination.
Usually Vanilla is ready for harvest in between 8 and 10 months after flowering and once you saw the beans pod dark green and the top is turning to yellow. When pods end turns pale yellow in color its gives a signal to be harvested
Here are the four stages involved to get our finished product after vanilla plant cultivation
Vanilla farming = Curing -> Sweating-> Drying -> Conditioning.
Curing: vanilla beans plant has to be dipped into the hot water where the temperate of hot water should in range of 65-70 C for 2 To 3 minutes max( bean can be kept in a wood basket or cotton clot
Sweating: after dipping into the hot water we have to remove them and make sure water should be drained out from the basket or pot and later it has to be spread outside on a tray, woolen cloth, or any kind of platform for sunlight exposure for at least 3 hours every day for 7-8 days.
Slow Drying: Once sweating completed, a spread bean in woolen racks and kept them in the drying room for 1 month or it continues until the weight of the bean is reduced by 1/3 of the initial original weight but make sure to maintain the humidity of the room @ 65 to 75 %
Conditioning: slowly dried beans have been sorted out depending on their quality and made into the bundle of 50-100 piece bundle by tied up with both ends and kept that in transparent soft butter paper inbox and these wrapped boxes are kept in an airtight wooden box or thermocol box for 2-3 months
Now let's jump on the how much vanilla plant Orchid produced in 1 acre and their income calculation (based on 1 acre)
As per professional experts under the Indian conditions production of green vanilla is around 900 to 1200 Kg OR 150 to 300 KG Cured dried Beans per acre depending on how we cure and maintain vanilla plant orchid.
Here we will calculate average green beans in KG and average dried cured beans (both prices are different in the market as below)
Average Green bean produced = 1000 KG
Average Cured dried bean produced = 170 KG (around 6 Kg green pods produced 1 kg cured dried beans)
Now calculate if you sold green Bean in the market you will get 30 lac
(Green bean market price is minimum RS.3000 -4000 per KG)
1000 kg X Rs.3000 = 30, 00,000 Lac gross profit (which doesn't include the cost of the four-stage process to dried them as we are selling direct green beans) even after you deduct max to max 10 lac expenses still you got 20 Lac Net profit in 1 acre in yearly income.
Let's calculate if you sold Cured dried Bean in the market you will get 30 lac
(Cured dried bean market price is minimum RS.35000 -40000 per KG)
170 kg X Rs.35,000 = 59, 50,000 Lac gross profit (which includes the cost of the four-stage process to dry them) even after you deduct max to max 20 lac expenses still you got 39.5 Lac Net profit in 1 acre in yearly income.
Please note that after the 3rd year of planting beans production of beans may vary 3rd 4th, 5th 6th years may get the production of 300 gram, 600 gram, 800 gram 1 KG per vanilla plant respectively.
Are you Interested in Sell Your Vanilla Beans?
Read more – Make Super profits by investing in Australian teak plantation: Agriculture land, budget, fertilizer