Agarwood

| Proposal for Investment in Agarwood Plantation Project

Dear Investor's

I hope this letter finds you in good health and high spirits. We are agrownets Team, and we are professional agriculturist with several years of experience in the agriculture industry. we are reaching out to you with an exciting investment opportunity that I believe will not only yield attractive financial returns but also contribute positively to the environment and local community. I am seeking a strategic partner to invest Rs. 30-35 lakh in acquiring a 4-acre plot of land, which will be utilized for cultivating Agarwood.
Project Overview:

Agarwood buyers

|

Agarwood seller
The proposed project aims to establish an Agarwood plantation on a 4-acre plot of land located in [Location- will decide based on the money we collect]. Agarwood, also known as "oud," is a highly sought-after aromatic resin derived from the Aquilaria tree species. With increasing demand for Agarwood in various industries such as perfumery, incense, and traditional medicine, this project presents a lucrative opportunity for investment. you can learn more about all agarwood Plantation how we can implement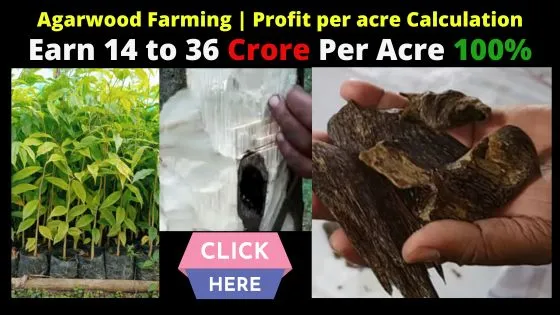 #beforeimage2
Investment and Distribution:
we are seeking an investment of Rs. 30-35 lakh, which will be utilized to purchase the land, prepare the site for planting, and cover initial operational expenses. The land will be registered under Our name, and a comprehensive contract agreement will be drawn up to ensure transparency and mutual benefits.
The net income generated from the Agarwood harvest will be distributed as follows:
#beforeimage4
50% to the investor
50% to me as the plantation manager and cultivator
Project Execution and Timeline:
Once the investment is secured, we will promptly proceed with the implementation of the project. The timeline for the project execution is as follows: this are estimated time this can be changed depend on situation.
Land Acquisition and Preparation: Month 1
Procurement and Planting of Agarwood Saplings: Months 2-3
Agarwood Plantation Management: Ongoing
Agarwood Hardwood Collection: After 6-8 years (maturation period of Aquilaria trees)
Research and marketing to sell our product in Local or global market- approx 3-5 months depend on the market demand
Agarwood Sale and Income Distribution: After the first harvest and annually thereafter
Benefits of the Investment: | agarwood incense

Attractive Returns: The Agarwood market has demonstrated consistent growth with high demand, ensuring potential returns on investment.
Environmentally Friendly: Agarwood plantations promote environmental sustainability by preserving natural Agarwood sources in the wild.
Social Impact: The project will create employment opportunities for the local community and contribute to the regional economic development.
Conclusion:
We firmly believe that this Agarwood plantation project presents a unique and promising investment opportunity. As a professional agriculturist, our expertise will ensure the effective management and success of the plantation. we are dedicated to creating a mutually beneficial partnership and delivering profitable returns.
We would be delighted to discuss this proposal in more detail and answer any questions you may have. Please feel free to contact me at below form to arrange a meeting at your convenience. (For internation Investor Only)
Thank you for considering this proposal, and I eagerly look forward to the possibility of collaborating with you on this venture.
Sincerely